January 18th, 2017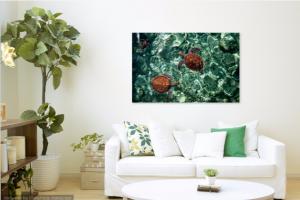 During whole my life I was very close with nature. From the early age of childhood I spent almost all days around in the fields, in the forests, on the green shores of small river with crystal clear water in the remote village of Russia. I was speaking to the trees, flowers and water, they were speaking to meÖ
Unfortunately we did not have the wild animals around otherwise I would realize I could speak with them too))

I fully absorb the beauty of nature and carrying it throughout my life.
So my first choice for photography subject was very much predictable and of course it was a nature in its glory.

For nowadays when many people living in the big cities surrounded by crowd and by stoned jungles to get in touch with nature become an essential urge. I hope with my natureís photography from around the world I can pass the true vibes of healing nature directly to your home walls to make your life more beautiful and harmonic.
Can you hear the music of silence?
Music of silence.
Music beyond words
Children of the Ocean thatís what we are
Love is the most shining star
In the inner sky of your being
Love is the most shining star inside you.
From Agua-Fogo-Ar-Terra by Sound of Light

Let me know how do you feel about idea to have a piece of nature in your home, it will be a pleasure for me to read it!

Sincerely yours,
Jenny Rainbow
March 26th, 2016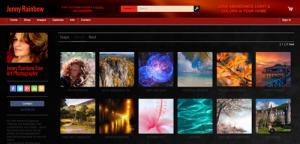 Recently I have been interviewed about my photography in The Crazy Mind blog: http://www.thecrazymind.com/2016/03/jenny-rainbow-fine-art-photography.html

So now you know about me and my photography approach a bit more :-)

Here is the text:

Tonight our guest is fine art photographer Jenny Rainbow. She is a Fine Art artist and her specialty was design and painting. When digital camera's technology started its glorious way she changed a direction and now she is dealing only with photography. We have conducted an interview with her.



What inspires you to use Jenny Rainbow as your artistic and photographer's pseudonym?
After graduation I became an artists and designer as I was studying in the Fine Art College of my native Russian city Yaroslavl. I am sensitive for colors and color vibrations. I do love all the colors and varieties of tones and their mixes - its truly essential and they have a second nature to me. When I am creating work I usually am giving it an artistic touch by creating a particular mood and atmosphere. So when it comes to the question which colors do I prefer, I would say the colors of the rainbow. Although during my journey of life the rainbow was my personal sign of luck. So these three points - sensitivity for all colors, the rainbow as a natural wonder and my lucky sign - they all together became my artistic brand name. I realize that customers and other artists by now always are expecting from me some kind of ďbrandĒ and my own style of colors in my art.

Is there a relationship to your second passion: Nature?
The Rainbow is a wonder of Nature - the triumph of a natural event and definitely Nature is a big part of my past and present life. Itís a pure source of daily inspiration, relaxation, energy and healing vibes. I do love to go outside the city to be surrounded by the natural elements and to be in harmony with it. With my camera I see small invisible wonders that I can pass on to the viewers. My Celtic spirit also draw the trees to me as a magnet. I do feel nature. It is not even just a passion it is just the essence of my life and my art. That is what I want to show to the world with my photography.

In what way are you influenced by the many different cultures, and what is the effect on your fine art prints portfolio/gallery?
I am so blessed with travelling and living in so many different parts of the world. I visited lots of countries - European and Asian, and I also visited Australia and Mauritius. I have not been there as a tourist while I was living in some countries for a while. Everything I observed there I captured with my camera. The world through my eyes/lens is not just a sentence but my true experience. To live in different cultures makes my mind flexible and open for something new. My photography was experiencing all this , in a way that viewers can see and feel the atmosphere of other places.



What is your special relationship with photography?
Photography is my kind of language with which I am addressing the world. To show and share what is essential and interesting for me - what makes me smile, relax, wonder, excited and being amazed. I donít have a poetic talent so I am creating my visual poems with my camera and during post processing work. I hope I donít need to explain my photography because the result of what I thought, what I felt and what I saw plus my personal vibes, my feelings, my love, my passion - all of this has become a part of my work which I am presenting to the viewer. For me to create Art is a true meditation filled with positive healing vibrations and beauty. Photography for me should be a way to make my world better by vibes of natural harmony, love and light.
Even photography of just plain grass captured in a particular way can bring the feel of closeness to nature into ones livingroom. And I am so glad to know that many of my works are hanging all over the world on many walls in private homes, offices and hotels bringing the beauty of nature to all their inhabitants.

Relating to design and painting, in which way do you think it has enhanced your photographic skills ?
My artistic background and knowledge about how to deal with colors and painting/ drawing techniques makes me look at an image in a different way. I can add for example an impressionistic touch to it with dynamic movement or I could use a special color palette. I can also add texture which gives the image a feeling of a painting or i could use other techniques which enriches it in a way that it brings out the potential of the image.

May 16th, 2013
New photo album Tulips in Holland available on Blurb:


January 3rd, 2013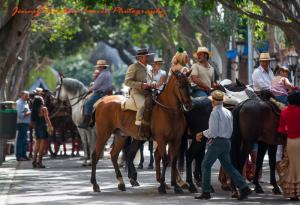 I created a new account on Flickr - Jenny Rainbow_Travels: www.flickr.com/photos/jenny_rainbow2
which is containing with images from all my travels in whole. Everything what I was missing to post on my main account on Flickr just avoiding the flood, you'll find there. Now you can see much detailed reports from the countries I visited.

First collection contains the images from the Romeria celebration in Spain (Torremolinos) in September 2012. Hope you will be enjoying to go through as Im still enjoying to look at those expressive happy faces, full of emotions and positive!

If you have any specific requests regarding the photos in the collection just connect me directly by email: jenny_maldives@mail.ru

Happy New Year to everyone!
May 19th, 2012
Today starting Malpais International Art Show: http://www.malpaisartshow.com/
The Malpais International Art Show will feature artists of all mediums from all corners of the globe. The event will include judging in many categories and a reception and charity auction to wrap up the event.

The World Artists Corporation will bring the online and real world together on May 19th, 2012, in Grants, NM, USA for a juried and display art show. The show will be primarily digital in nature and is open to artists from ANYWHERE in the world. ONLY 250 artists will be selected to enter and each artist can submit up to 3 entries for judging and have 20 pieces for display at the show.

Im happy to inform that 3 of my works will be participating in this show:

VIENNESE WALTZ




TWILIGHT GUARDIANS




THREE SISTERS. GLENCOE. SCOTLAND




The show itself will take place all day on May 19th with opportunities to purchase and view art from around the world, and a reception from 7pm to 9pm where the winners will be announced.
A combination of onsite judging and online voting will determine the winner in several categories, to be determined based on entries to the show.

So, crossing the fingers and wish a Good luck!
April 12th, 2012
As previously written, I've been so happy to be chosen for the CopperFlame show which started from 1st of April and will finish at 30th of April.
One more time I would thank James - administrator of the CopperFlame Gallery (http://fineartamerica.com/profiles/1-james-bryron-love.html) ,
for accepting my participation in 17th Show!

This show runs from Apr 1 to Apr 30st 2012.
You are very welcome to visit site and my particular page: http://copperflame.com/chelsey.php
Sometimes Im there online, so do not hesitate to contact me and ask any questions! :-)

Best wishes for everyone!
March 15th, 2012
I've been so happy to be chosen for the next show which starting in 1st of April! Thank you very much, James, for accepting my participation in 17th CopperFlame Show!

This show runs from Apr 1 to Apr 30st 2012

Here is the link for those who still not aware about great helper for the artists to be exposed:

http://copperflame.com/
Our Group of 7 was selected for this show

Jonathan Benitez Jareds Cagang Yokte Jenny Rainbow Amy Dexter
Masoom Sanghi Phil Koch Geeta Biswas

Please come and visit us for the show, we would be glad to have you there!
By the way anyone can apply for the participation in the next shows, get your chance to have your art more seen!


/a>
March 10th, 2012
I would bring some your attention to one of my work:




I post this work in the thread "Lets talk Photography" among the Fine Art Discussions: http://fineartamerica.com/showmessages.php?messageid=652579&targetid=652579#652579
With this work actually I wanted to get some attention regarding the rules in photography.

Here is the original post:

Jenny Rainbow:
I love this thread, always great to know something new! I count myself as a beginner with photography, although Im graduated as fine art artist. I love to use the different techniques to get the essence of subject and show the message of what I mean by the image. I would present you the work which is pretty unusual for me, but usually when Im creating Im basing only on my intuition forgetting about all the rules, and sometimes also wondering what it will be in the end. So here is the work, pretty weird for me but I could not explain, why I drawn to it. Any opinions from your side, would be great to hear! I didnt follow any photograph's rules there, actually seems I broke all the rules... but personally I love it..




So here is the question - how important to use the rules of the third, to fill the image with harmony or much more important to follow the intuition and then we can speak of the personal view of this world?

Maria Disley:
I like it, there is a kind of freedom about it.

Gregory Scott:
My initial reaction was that I wanted to see her footprints all the way up to her.
This should be easy to achieve with some photoshop modifications. I am sure you have the skills to paint in suitable footprints if they're not actually there, and to remove those you don't like.

On the other hand, as is, it suggests other things that could be good: perhaps she's walking on hard wet sand, and no longer leaving tracks.
In that case, I would like to see the waterline.

On yet another hand, as is, it may suggest that she's walking on the water, or in the air.
In those cases, it might make sense if she weren't visually joined to the land, like a girl on a spit.

On yet another foot, I like the ultra high contrast treatment, and wonder why you didn't choose to take it all the way to pure black and white.


Lara Ellis:
I like it even if it does break rules. I like the way you see two different parts of her journey, the beginning and the end. I like the high contrast too because it's like you are seeing her spirit.

Jenny Rainbow:
Gregory, Maria and Lara, thank you very much for your precious attention and opinions, I appreciate it a lot!

Gregory - the purpose of this image is to make everything unclear and uncertain, like you said at least 3 versions how it would be... to give to the viewer a huge space for imagination, just focusing on the main points: footprints direction, the cue for the beach and the sea ahead this woman and her mood - all of those things and her back story are in the imagination of the viewer. Her story has a birth in your mind and your fantasy. Im giving to you the starting points and then your imagination starting to work. The gray shade on the foreground is underlining and emphasizing the main theme - shadow - shadow of the past..
Actually Im not a big amateur to explain the pictures Im creating, as I realize that the picture and story and theme speaking for themselves. All what I wanted to say is already incorporated in the image: the certain colors, forms, and in the whole mood. And it supposed that viewer will make his part of work, together with me, its a joint creation....:-)

Thank you one more time, Lara, that what I meant previously, you created your own version of the image... and its precious. Thank you! :-)

Actually I wanted to bring the attention to the question of main photography rules - yes, the rules for the composition and execution definitely exist and helping but they can be broken - all of them - to emphasize the idea and arise the emotions.. Here I totally was basing on my intuition. Sure its up to the particular viewer if the certain work can affect and touch him or not... and one more time thank you Gregory and thank you Lara as you made a perfect illustration of 2 different opinions on one work..

We have to be free in our creative process, trust our feelings and intuition and not afraid to break the rules. I just would repeat one more time that any work will find its viewer, admirer and perhaps its own buyer..:-)
Happy weekend to all!






February 22nd, 2012
Good morning/ afternoon/ evening/ night to all my friends and visitors!
First let me to thank all of you to come to my gallery, for your great feedback, for inspiration, suggestions and for decision to get your favorite of my works to your home. I really hope that you are enjoying those images which Im creating and sharing with you!
Its all about beauty of the world....

From today I will be regularly giving all new information about my art and any other news, which hopefully will be interesting for you!


I created today the new Gallery "Spirit of Treasure" which contains with macro photography of jewelry : http://fineartamerica.com/profiles/jenny-rainbow.html?tab=artworkgalleries&artworkgalleryid=147821




Here is I presented it in a fascinating and sparkling bokeh style which shows greatly the charm and magnetism of the Jewel Art.
The photography with precious jewels with gems is a beautiful addition with design element for any jewelry shops as they are displaying the real spirit of luxury style.
Please ask me directly if you are interested in this design and need other tones of the presented works to be suitable for your interior as I have a big collection of the images with jewelry. Contact me if you would love to see more of my collection and to get the special discount if you are buying 2 or more works from this collection.

Good luck to every one and have a great week ahead!
With best wishes,
Your Jenny Rainbow